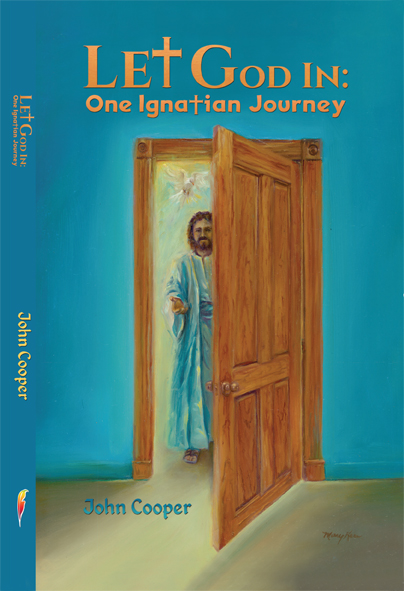 LET GOD IN: ONE IGNATIAN JOURNEY
BY JOHN A. COOPER
This book exploring St. Ignatian Spirituality is available for
purchase here
.
Let God In: One Ignatian Journey chronicles the author's personal journey, that of a cradle Catholic who left Catholicism for 49 years, into St. Ignatian Spirituality, specifically the 19th Annotation of the Spiritual Exercises of St. Ignatius. The author eventually returned to the Catholic Church partly as a result of the Exercises. This book fills a need in our world for enhanced Spirituality which counters the rampant materialism and violence of our society. Let God In: One Ignatian Journey is easy to read at the first level of cognizance and, with extensive footnotes, also enables deeper knowledge and personal transformation.

Let God In: One Ignatian Journey is different from other books about Ignatian Spirituality because it views the 19th Annotation as a personal journey, and portrays a different viewpoint of Ignatian Theology from the lens of non-violence and explains the non-violent meaning of the Exercises. Let God In: One Ignatian Journey is also compelling for those who have suffered loss and is a viewpoint of Ignatian Theology that conforms to Pope Francis' beliefs regarding respect for all life and rejection of violence and confirms Pope Francis' Jesuit roots. The book also provides the benefit of a simplified format which can also be used as a daily devotional.
Source of peace
I very much desire you to be able to acquire calm and peace. The best way to acquire this calmness is complete resignation to God's holy Will: here is where the region of peace lies… Try hard to desire nothing, not to attach your heart to anything without having first of all presented it to God and placed it in the Sacred Heart of Jesus so as to be wanting it in Him and with Him.
One of the main reasons why we lose our peace of soul is that we desire something, we fix our hearts on some object without knowing whether God wants it or not, and so, when an obstacle opposes our desires, we worry about it, we move away from conformity to his holy Will and lose our peace. - I quote from the Blessed Columba Marmion, (1858-1923.)
The principles of this book are useful for personal spirituality, personal worship, faith based groups, and the marketplace. These Ignatian based principles work! - John A. Cooper
Visit J Cooper For Peace for additional writings by the author.