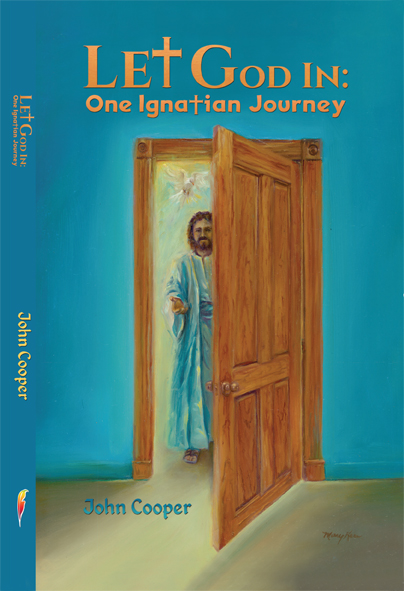 LET GOD IN: ONE IGNATIAN JOURNEY
by John A. Cooper

This book exploring St. Ignatian Spirituality is available for purchase here.

Published by Austin Maculey Publishers, view the press release.




Let us reflect on this book's cover. Perhaps you are a lifelong Christian as is the author, John A. Cooper. Perhaps you are thinking, "I have already let God into my life and my salvation is assured." Perhaps you are not a Christian, maybe you are Muslim, or atheist, or maintain another belief system, or no system at all. Then, this book is for you! Even if you have a relationship with God, would you open the door to your heart even wider and give up everything to live only in the love and Grace of God?

The original art for this cover was commissioned by the author who asked Mary Kerr, of Tuscaloosa, AL to paint the original oil painting. The door is 8/4" thick Oak, all solid wood, with Oak door casings, all of which were manufactured and finished in the workshops of John A. Cooper, a cabinetmaker. The door enters into John's workplace office. Notice the symbol for the Holy Spirit, the light from the Father, and Jesus, all One God, all of the same substance. John asked Mary not to make Jesus white. Jesus is represented as he may have looked in His physical body. Jesus' hands reach out for you… Will you let Him into your life? Will you open the door even wider if he already lives in you? May Jesus be your Peace?


Make a donation to jcooperFORpeace (not tax deductible)



To pay by credit card, check or money order, email jcooper@simplewaycoffin.com for details.

Purchase prints of original drawings $17.95 each or all three for $45.00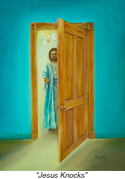 Purchase 12" by 16" Frameable Print of Jesus Knocks For $24.95





Special free manuscript offer for those who have purchased the book.
By clicking to receive this free manuscript, I affirm I have purchased and read the Austin Macauley published version of Let God In: One Ignatian Journey.